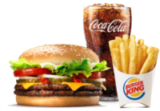 Viking Restaurants is a growing franchise group with more than 26 BURGER KING® restaurants in Minnesota, North Dakota and South Dakota. The company employs approximately 600 team members and has been serving our guests high quality food with outstanding guest service for 17 years. In the past several years, we have invested millions of dollars to make our Burger King® restaurants fresh and modern with the latest amenities.
Viking Resturants Pledge To You
OUR CUSTOMERS
Viking Restaurants is committed to providing an excellent dining experience at every one of our BURGER KING restaurants – from great food and service to a clean, modern and comfortable atmosphere.
OUR EMPLOYEES
We're dedicated to providing a positive and supportive work environment with exceptional career advancement opportunities. We are committed to helping our team members reach their full potential every day.
OUR VIKING RESTAURANTS OFFICE
Office | 952-215-3291 | office@vikingrestaurants.com